Harry Evan Kinley: View Photographer
Thanks to the efforts this past summer of one of our interns here at the Ohio History Connection, we've begun adding to Ohio Memory images from a fantastic collection of glass plate negatives–the Harry Evan Kinley Collection.
Born in 1883, Harry Kinley was a native and lifelong resident of Upper Sandusky, in Wyandot County. His family's roots in the community reached back to the 1840s, when his grandparents immigrated from Germany to settle in Tymochtee Township. From the time he was a young man, Kinley was active in local events and organizations, including playing in the town's Fireman's Band, singing in local quartets, and organizing the area's first "Halloween Parade." He spent his professional career as a clerk at his father's department store in downtown Upper Sandusky, and later as a traveling salesman for the Marion Paper & Supply Company (1934-1962). During these later decades, Kinley crossed the state many times, plying wrapping paper, paper bags and other paper goods. In his travels, he is noted to have collected rock specimens from all of Ohio's 88 counties, which he used to build a rock garden back home.
He was also an avid lifelong photographer and photo collector, and it was during his young adulthood that he began working extensively to document the Kinley family, the city of Upper Sandusky, and Wyandot County and surrounding areas in what is now the Kinley Collection. After attending an Eastman Kodak-sponsored "School of Photography" event at the 1909 Photographers Association of America meeting in Rochester, New York, Kinley started shooting, printing and selling souvenir postcards out of his father's store. In addition to his remarkable work documenting the Upper Sandusky community, Kinley would go on to serve as long-time secretary of the newly-formed Wyandot County Historical & Archaeological Society, working to improve public access to and awareness of the area's historical sites; curator of the Wyandot County Museum, which included artifacts from his personal collection; and the author of "Museum Notes" in Upper Sandusky's Daily Chief Union for over 20 years.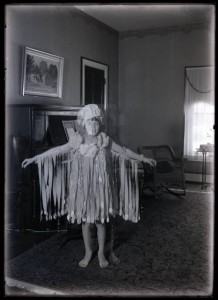 Ever an advocate for Upper Sandusky and Wyandot County history, Kinley preserved his decades of photography in the form of plate glass negatives, which came to the Ohio History Connection in 1996 through a donation by his daughter, R. Lucille Kuenzli.
The first five boxes of this 23 box collection are now available online, and we hope you'll take a moment to explore them. Part of the charm of this set of images is the talent that Kinley had for capturing the playfulness of his friends and family. Photographs show men and women in costume, striking funny poses for the camera, and even mid-laugh. We plan to continue adding to the online collection from this wonderful record showing one man's deep appreciation of his community and its past.
---
Thanks to Lily Birkhimer, Digital Projects Coordinator at the Ohio History Connection, for this week's post!
Source of biographical information: Harry Evan Kinley: "Eight Dollars and a Camera" (977.123 K621m)