The Martin Glider: A Different Kind of Flying Machine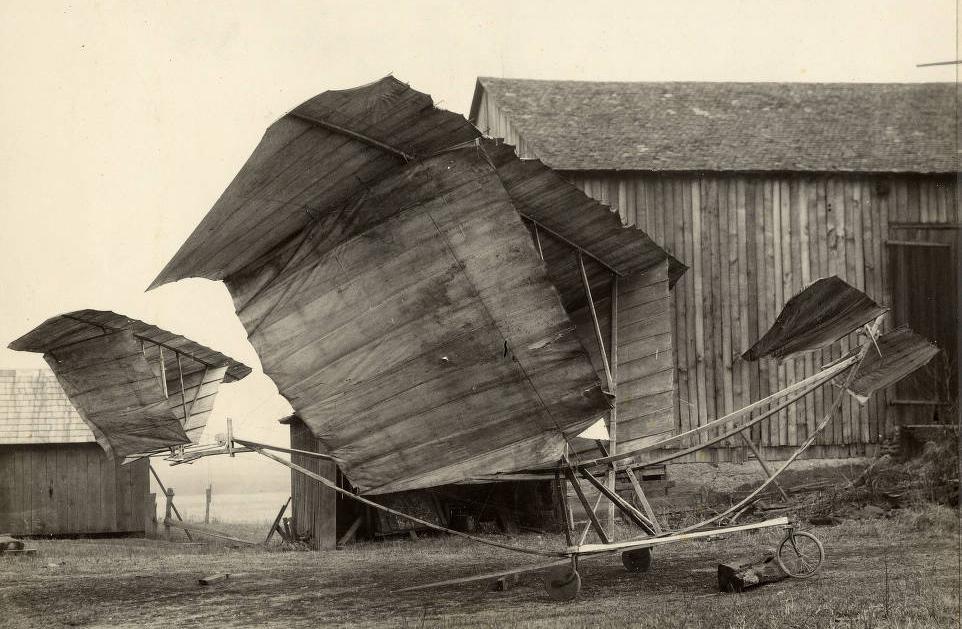 When we talk about Ohio aviators, most everyone has heard of the Wright Brothers and their famous flight in 1903. But did you know that another couple of Ohioans from the opposite side of the state made their own bit of history less than a decade later? On January 12, 1909, William H. Martin and his wife Almina of Canton successfully tested the "Martin Glider" with what we imagine was quite a chilly test flight!
Martin, a successful farmer born in Canton in 1855, began experimenting in the field of aeronautics around 1887. His idea was for a monoplane (or single-wing) glider, as opposed to the bi-plane (two-wing) design made famous by the Wright Brothers. Designed beginning in 1908, his Martin Glider was one of the earliest successful examples of this type of aircraft, and represented one of the earliest mono-wing designs in aviation. It was built of lightweight wood, covered in cloth, and was originally pulled by the family's horse, "Old Billy," who ran downhill towing the glider (although Old Billy would later be replaced by automobiles).
During its first flight, after Martin had outfitted it with sled runners in response to that season's January snows, the glider flew at a height of roughly 20 feet, with an air speed of 20 miles per hour. Because Almina weighed less than Martin, the couple often opted for her to ride. Some reports record her as the glider's first pilot — whether or not this is the case, she is recognized as the first woman recorded as flying a heavier-than-air craft. Even Martin's granddaughter Blanche, at the age of just 8 years old, is credited with flights of the glider on the family farm.
The glider eventually made more than 100 successful flights, including its last public flight which took place at the Morris Park Race Track in New York City. The clipping at right advertises this "amusement," from the New-York Daily Tribune, June 24, 1909. Another Tribune article from that month titled "Aeroplanes on View" reports the following:
At the grounds yesterday was W. H. Martin, from Canton, Ohio, whose glider has seen aerial service after being towed by a horse. Mrs. Martin was present, and so was the glider, and it is said that Mr. and Mrs. Martin will ride together wherever they go after the horse is cut loose.
An excellent history of Martin and his glider — including its journey to Washington and back home again — is given in Canton's Pioneers in Flight by Kimberly Kenney, who is the curator of the McKinley Presidential Library & Museum. The McKinley Museum owns the original glider (which previously hung at the National Air & Space Museum in Washington, DC), but has loaned it to the MAPS (Military Aviation Preservation Society) Air Museum in North Canton, where visitors can see it on display. If you get a chance, we hope you'll stop in to see this unique piece of Ohio (and world) history and learn more about the Martins' contribution to the story of aviation.
---
Thanks to Lily Birkhimer, Digital Projects Coordinator at the Ohio History Connection, for this week's post!