Spirit in the Sky: Judith Resnik, Astronaut and Trailblazer
Judith "Judy" Resnik was born in Akron, Ohio, on April 5, 1949.  Her parents, both of whom were Russian Jewish immigrants, were devoted to learning and encouraged curiosity in their daughter.  After graduating from Firestone High School, her perfect score of 800 on the math SAT paved the way for acceptance into Carnegie Tech (now Carnegie-Mellon), where she studied electrical engineering.  Graduate school followed, with Resnik ultimately earning a Ph.D., also in electrical engineering, from the University of Maryland.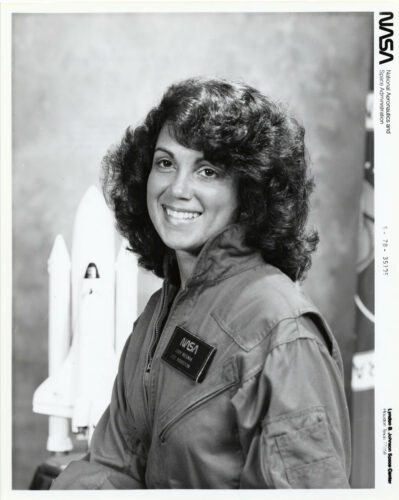 Resnik had never planned to be an astronaut.  In a 1981 interview (please note that clicking on the link will take you to YouTube), she said that she decided to apply on a whim after hearing that the program was accepting women.  Whim or not, she was accepted to astronaut training in January, 1978, along with six other women.  Her cohort included Sally Ride, who went on to become the first American woman in space; Kathryn Sullivan, the first woman to perform a spacewalk; Shannon Lucid, the first woman to visit the Mir space station; Margaret Rhea Seddon, who flew on three Space Shuttle flights; and Anna Lee Fisher, who was married to fellow astronaut Bill Fisher and who was the first mother to go to space.
During her training with NASA, Resnik specialized in the operation of a remote-control arm that moved objects located outside of spacecrafts.  In 1984, she utilized this training while on the space shuttle Discovery, when she unfurled a 102-foot-long solar sail, which was designed to be used to capture the sun's energy.  With this trip, Judy became the second American woman, and the fourth woman worldwide, to travel into space.
For her second space flight, Resnik was scheduled aboard the space shuttle Challenger.  This 1986 flight captured the imaginations of people around the world, not only because a woman astronaut would fly – still a novelty, with only four other American women having traveled into space since Judy's 1984 flight – but because this flight would include Christa McAuliffe, a teacher from Concord, New Hampshire, who had been selected to the Teacher in Space Project in 1985.  Consequently, a large audience – many of them children, watching from their classrooms – tuned in to see the shuttle take off from Kennedy Space Center at Cape Canaveral. This was the tenth flight of the Challenger, and its mission was to study Halley's Comet as it passed, as well as to deploy a satellite that would enable constant communication with orbiting spacecraft.  McAuliffe was to teach lessons, giving students an inside look at the life of an astronaut, and another member of the crew, Ronald McNair, planned to be the first to play a saxophone in space.  Sadly, just over a minute after takeoff, tragedy struck.  Failed O rings allowed hot gas to blow into the right solid rocket booster, causing the explosion of the shuttle and the death of all seven astronauts.
Numerous posthumous honors have been bestowed on Resnik in the years since her death.  A dormitory at Carnegie-Mellon and a lecture hall at the University of Maryland have been named after her, as have several public schools.  A crater on the far side of the Moon also bears her name, as does a community learning center in Akron.  The Institute of Electrical and Electronics Engineers and the Society of Women Engineers have both named awards after Resnik.  Finally, her brother, Michael Resnik, and other family members of Challenger astronauts, have established the Challenger Center to encourage STEM interest in children.
In the same 1981 interview as referenced above, she was asked what she liked best about being an astronaut.  Her answer?  "Everything."  She seems, in the video, to be a little surprised that she enjoyed the physical exercises as much as she did, but joy shows on her face when she discusses the aspects of working in the space program.  She became an adult at a time when educated, career-driven women still faced obstacles to success, but she conquered those difficulties with grace and wit and remains a role model for little girls everywhere.
---
Thank you to Shannon Kupfer-Trausch, Digital Initiatives Librarian at the State Library of Ohio, for this week's post!