"Oh my gauze!" Pandemic in the news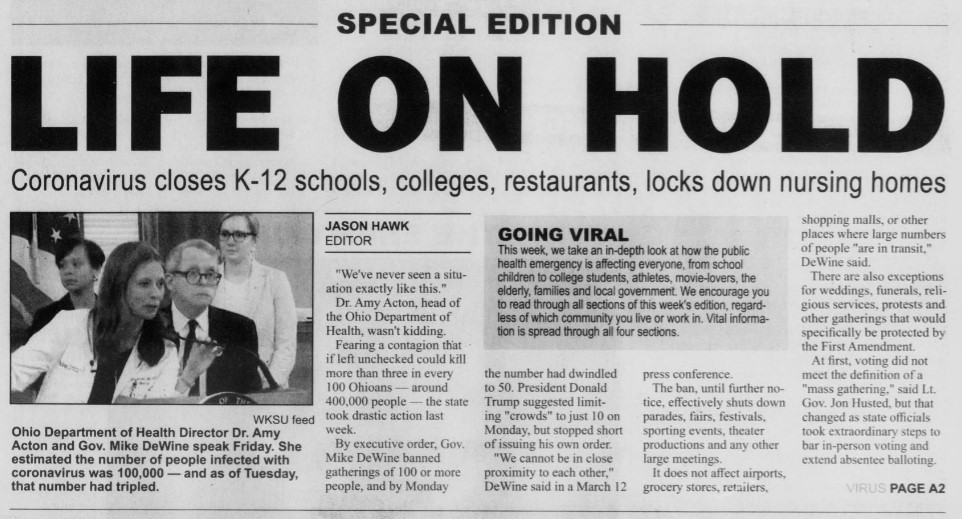 "The germ will go through a city and even travel across the country from coast to coast, but it gets all mixed up in trying to penetrate the numerous interstices of 4 cents' worth of gauze and falls to the ground exhausted." This somewhat sardonic remark from the height of the 1918 influenza pandemic could fit the everyday conversation of 2022, two years into COVID-19.
This week marks the two year anniversary of the first wave of quarantine mandates in the U.S.,
and is heralded in Columbus, Ohio, by lifting indoor masking mandates. On the heels of lowering infection rates and loosened quarantine requirements, to many the pandemic appears on the decline. Others feel apprehension—will resumed gatherings and reduced pressure to mask result in a resurgence of the virus?
Regardless of your perspective, if you've felt surprised by your peers' responses these past two years, the historical record shows that social division over a highly contagious disease, and its government responses, has been anything but "unprecedented."
The Alliance Review and Leader prints on October 18, 1918, that the "ban on public places, including churches, schools, theatres, saloons, etc., on account of influenza will not be lifted before the middle of next week." Merely two weeks later on October 30, 1918, the Daily Journal Herald, published about 130 miles southwest in Delaware, Ohio, reports that "Saloons, it is claimed, have been admitting customers through rear doors, in spite of orders, while bootleggers, taxicabs and certain business houses and residences have sold large quantities of liquor."
Weddings and funerals, likewise, reduced in size to curb the spread of influenza.
Fast forward to 2020, Oberlin College students' "freedom to leave campus is also limited by COVID-19 rules. Yes, they can move freely around the city, […] but the college has instituted a temporary travel ban against leaving the Greater Cleveland area…"
If not a full ban, other measures include travel warnings, which "ask people to quarantine for 14 days after returning from travel to other states where at least 15% of COVID-19 tests come back positive."
Gripes – for or against these mandates – have been made public in the format of the times. In 1918, newspapers dominated dissemination of public opinion. While 2020 saw the highest proliferation of "takes" on social media, contemporary newspapers report and aggregate public opinion just as much. Check out Ohio Memory's digitized newspaper collections to see more commentary on influenza and COVID-19, or do a quick keyword search that includes results from diaries, letters, and more.
So whether you delight or despair in your morning news, you can look back to see you're never alone.
---
Thank you to Jen Cabiya, Digital Projects Coordinator at the Ohio History Connection, for this week's post!