Ever wonder what a significant site in your city looked like 100 years ago? With the newest Learning Resource now available on Ohio Memory, you can view "Then and Now" images of a number of locales in Ohio's three largest cities, with more on the way!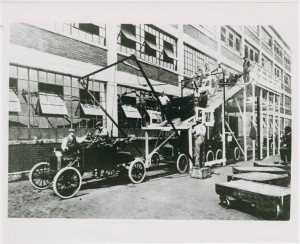 Using the historical photographs of Cleveland, Cincinnati and Columbus that can be found in the digital collections on Ohio Memory, plus the technology of Google Maps Street View, we've created interactive maps that allow you to toggle between historical and modern-day photographs of important locations in each of these major cities. This geographic approach to history is an exciting new way to look at the digital materials related to Ohio's past, and a new point of access for users interested in exploring familiar neighborhoods as they used to be. The comparisons also help to highlight how much things have changed in some areas–check out the Brush Residence on Cleveland's "Millionaire's Row" as a notable example–and how much they've stayed the same in others, like the Ohio Statehouse at Broad and High in Columbus.
Taken as a whole, the images have an important story to tell about how cities maintain their past and celebrate their heritage through the transformation and preservation of historical buildings, or in some cases, fail to do so. Some of the success stories include Cleveland's old Ford Model T factory on Euclid Avenue, which was purchased in 1981 by the Cleveland Institute of Art, and is still recognized as a National Historic Landmark. According to the CIA website, 2010 brought renovations to the former plant, allowing it to become functional classroom and studio space. Instead of razing the building, and glossing over its important role in the city's heritage, the school has given the building new life and brought its legacy into the present day. The same is true of the Cincinnati Union Terminal, which remains one of the city's iconic landmarks and now houses the multi-institution Cincinnati Museum Center.
We hope you'll explore what other exciting stories about Ohio can be found on the "Then and Now" maps–maybe even in your own neighborhood! Have recommendations for historic sites or areas of Ohio that you'd like to see added to the current maps? Contact us at ohiomemory@ohiohistory.org!
---
Thanks to Lily Birkhimer, Digital Projects Coordinator at the Ohio History Connection, for this week's post!