Letters from a Founding Father
In terms of flowery language or fancy writing, the letters aren't noteworthy: one requests information on the quartering of soldiers, the second is a simple thank-you note for the gift of a barrel of barley. The signatures on the letters, however, set them far apart and make them treasures–they are signed by George Washington, the first President of the United States.
At the time that the first of the two letters (seen below) was written, Washington was Commander-In-Chief of the Continental Army and was engaged in the Revolutionary War. Washington was headquartered in Morristown, New Jersey, and wrote to General Arthur St. Clair (later the first Governor of the Northwest Territory) to inquire as to the quartering of troops. "I want to be informed, in what measure the troops are accommodated as to quarters, or whether any part of them are put to inconvenience on this account." After the great losses due to frigid temperatures at Valley Forge three years prior, it's no surprise that Washington was concerned about the health and safety of his troops.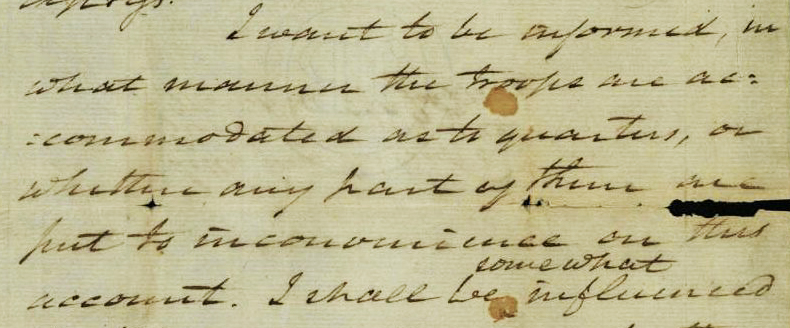 The second letter was written just one year before the United States Constitution was ratified and Washington was chosen as President of the new nation. At this time in his life he was happily situated at Mount Vernon — many historians argue that Washington had no desire to leave and re-enter political life — and had just planted the barley seeds given him by a Mr. Wadsworth. "I lost no time in committing it to the Ground," he tells Mr. Wadsworth, and then continues with well-wishes from his wife, Martha, and a wish that his guest, Colonel Humphries, be remembered to him.
These brief letters provide a small glimpse into the life of a great man, shedding light on moments both momentous and mundane. You can view them on Ohio Memory (along with transcripts), or plan a visit to the State Library of Ohio for an opportunity to see them in person!
__________________________________________________________________________________
Thank you to Shannon Kupfer, Digital/Tangible Media Cataloger at the State Library of Ohio, for this week's post!