"The Most Discussed Animal in Fur"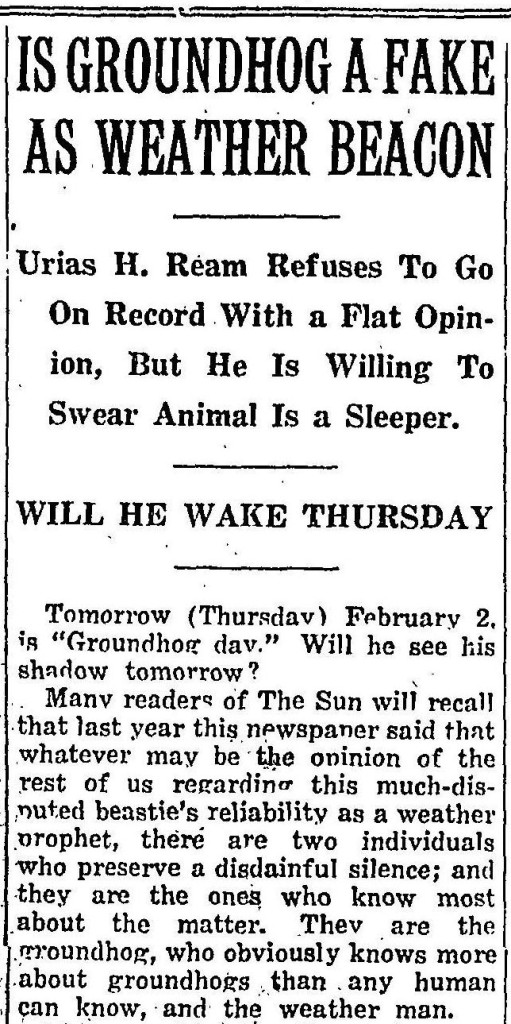 This past Sunday was February 2nd–Groundhog Day–and once again, Punxsutawney Phil saw his shadow, calling for six more weeks of winter. And after the snowstorm that hit much of Ohio early in the week, it seems like he may have been correct in this year's prediction! According to Wikipedia, Phil has only promised an early spring 16 of the 117 days that have been recorded since 1887, including a 30-year stretch of "long winter" predictions from 1903 through 1933. With the winter we've been having, a call for early spring would have been pretty welcome.
In the long history of the celebration of Groundhog Day, Ohio newspapers have faithfully recorded Phil's predictions and compared them to the weather the state was experiencing at the time. In a February 2nd, 1928, edition of the North Canton Sun, available on Ohio Memory courtesy of the North Canton Public Library, a background of the groundhog is provided in addition to a discussion of his utility as a weatherman. This tongue-in-cheek piece refers to the "inoffensive woodchuck" as "for one day each year…the most discussed animal in fur," who is known for startling tourists by"scuttling across the road in front of their cars" but has grown very "traffic-wise."
Another article from the Sun, printed the same month two years earlier, reports similar doubt about the "Groundhog Theory" and recounts a snowstorm that sounds much like the one that hit Ohio this past week. Large quantities of snow were found "here, there and everywhere," while schools closed down and roads grew treacherous for cars and trucks alike. We hope you're all staying safe out there, and that you'll take a moment to visit Ohio Memory and commiserate with our Ohio ancestors about the winter weather we all know so well!
---
Thanks to Lily Birkhimer, Digital Projects Coordinator at the Ohio History Connection, for this week's post!