In 1788, Marietta became the first permanent settlement in Ohio, quickly followed by a plethora of other settlements, all before Ohio's statehood. This rapid growth is due to Ohio having all of the "essential ingredients of future greatness, and more self sustaining [sic] and self creating [sic] principles than any other territory of equal size on the face of the globe." So says the 1837 Ohio Gazetteer and Traveler's Guide, which presents a snapshot of the state of Ohio as of that year, including descriptions of its cities, townships and villages; information on banks, judges, and post offices; and distance tables from and to a variety of locations.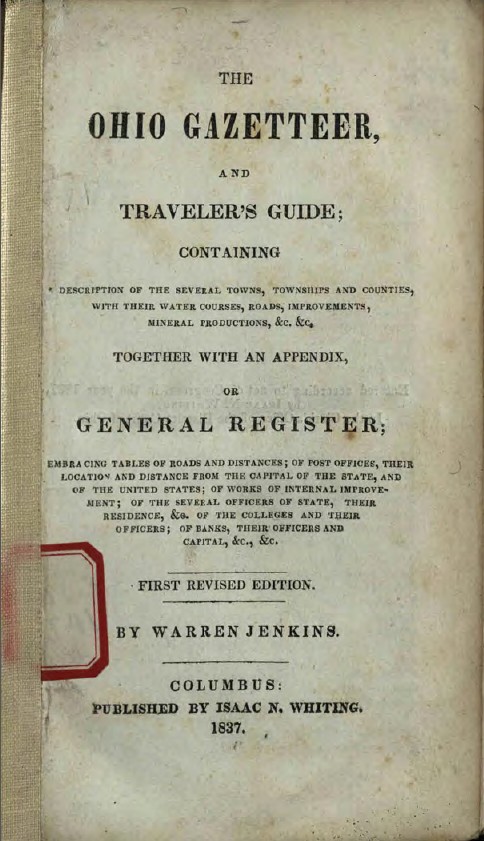 Travel guides are tools that we continue to use today, albeit in different formats. That being said, why not let the 1837 Ohio Gazetteer and Traveler's Guide be an inspiration for this season's travels? You might choose to visit Marietta, for example, with its numerous historic sites and museums, brick streets, and 19th century architecture. Or you could visit Miami University, which received a great deal of its early support from land grants from the Symmes Purchase. Or, speaking of the Symmes Purchase, you might also check out the home of Elisha Morgan, one of the buyers of Symmes land.
Maybe you would like to visit some of the many sites associated with the War of 1812. You might begin your tour at Fort Meigs, which hosts a variety of activities and events throughout the year. According to the Gazetteer, this site was in disrepair in 1837, so we are fortunate to be able to experience this fantastic site. You could also visit Fremont, the site of Fort Stephenson and the home of Old Betsy, a cannon used by Major George Croghan against the British and Indians in the defense of the site on August 1 and 2, 1813.
You might also enjoy visiting Columbus, the current capital and home of Ohio Memory's primary partners, the Ohio History Connection and the State Library of Ohio. At the Ohio History Center, the Ohio History Connection's primary site, you will find a wonderful museum relating to Ohio's history and, if you visit during the summer, you can also experience Ohio Village, a recreated 19th century village which hosts numerous events throughout the summer months. Hours are 10-5 Wednesday through Saturday and 12-5 on Sunday. The State Library is open weekdays from 8-5 and is located in the Italian Village at the former site of the Jeffrey Mining Company. We offer tours of our site, including our Special Collections, from which the Ohio Gazetteer, the inspiration for this blog post, was selected.
When you make travel plans this summer, you'll definitely want to consider visiting one of Ohio's many remarkable sites. They are a testament to our state's storied history and are not to be missed!
---
Thank you to Shannon Kupfer, Digital/Tangible Media Cataloger at theState Library of Ohio, for this week's post!