"The Arch Raider Visited Our People With His Fellow Thieves"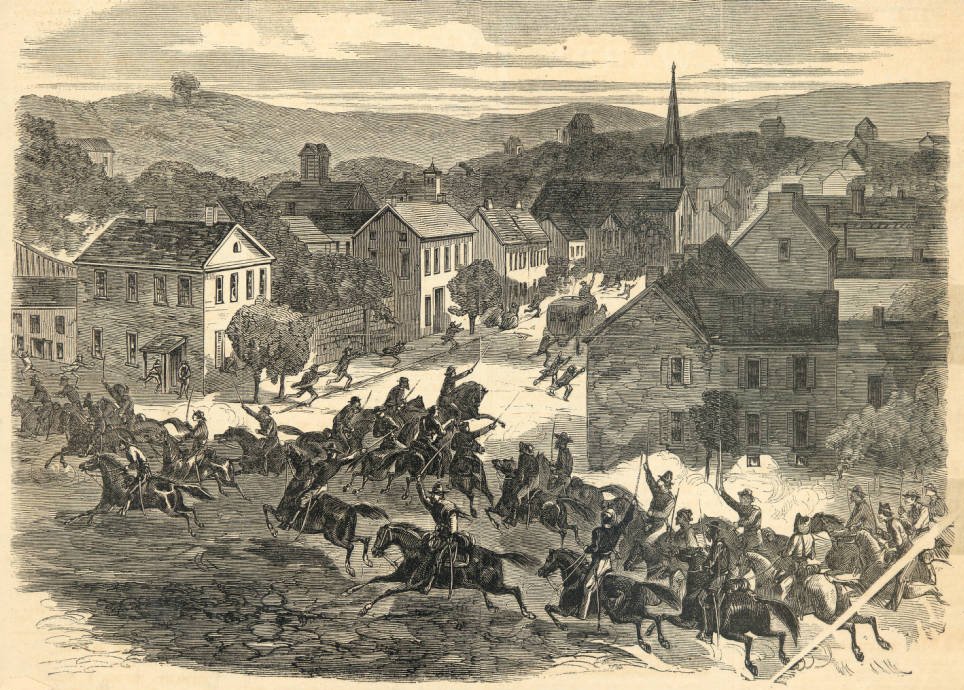 152 years ago, Confederate General John Hunt Morgan and his troops began a 13-day raid of Ohio. Their plundering of hundreds of villages and towns resulted in the only Civil War battle to be fought on Ohio soil: the Battle of Buffington Island on July 19, 1863.
Six days earlier, on July 13, 1,700 Confederates crossed into Ohio. Their raid had begun in Indiana five days prior to that but, when Indiana's militia began pursuit, the group fled to the Hamilton—Butler county area. For the next six days they crossed the state of Ohio, first traveling through the southern counties, then turning northward at Meigs County, where the Battle of Buffington Island took place, and continuing until they reached Columbiana County, at which point Morgan was arrested and, ultimately, incarcerated at the Ohio Penitentiary.
Ohio Memory offers a number of items — maps, artwork, and others — that bring to life the events that transpired over that two-week period. Letters written by Emily and Fannie Ford are firsthand accounts of the raiders' activities in Jackson County. Emily writes about burying her spoons and money, and about neighbors hiding their horses in the woods, all in an attempt to save them from being taken. Meanwhile, Fannie writes of the post-raid battles and says that the "slaughter by our gunboats was terrible."
Morgan's raid resulted in property losses totaling $678,915. Lists of claims and inventories of lost items can be found in Ohio Memory, as well, in the Ohio state government document entitled Report of the Commissioners of Morgan Raid Claims, to the Governor of the State of Ohio. Instructions for the Commission stated that they should "examine all claims…find the amount of the loss…and [determine] whether the claim be meritorious." In the Commission's own words, "we have no soft phrases for perjury [italics theirs] when committed by the lips of the crafty." They went on to say that "claims…for intoxicating beverages…have been very generally ignored; they proved a public curse during the raid (as indeed they always have) and … their operations were almost invariably carried on in flagrant violation of existing law." That being said, the final payout of nearly $580,000 equaled approximately 85% of the original amount of the original claims.
Incidentally, the tales of Morgan's escapades were not the last time he made news in the state of Ohio. On November 28, 1863, Morgan and six of his men escaped from behind bars and made their way to Cincinnati and across the Ohio River. We wrote about this incident in a previous blog entry, and you can read all about it here. And, for a look at more materials relating to Morgan's raid, visit Ohio Memory.
---
Thank you to Shannon Kupfer, Digital/Tangible Media Cataloger at theState Library of Ohio, for this week's post!
Interested in learning more about the route of Morgan's Raid? Read about the John Hunt Morgan Heritage Trail, a self-guided driving tour of 56 interpretive signs and over 600 specialized directional signs through southern and eastern Ohio.