Back the Attack! Propaganda and World War II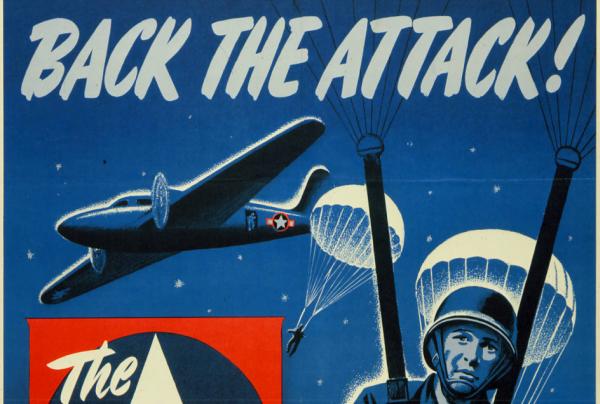 In both good and difficult times, our Federal Government produces materials designed to direct citizens' thoughts in a specific direction. During World War II, U.S. government agencies produced and distributed countless pamphlets, posters, and other materials with the express intent to increase support for the war effort. Multiple federal agencies were involved in this effort, including, but not limited to, the Government Printing Office (GPO), the Department of Agriculture, and the Office of War Information.
The United States Office of War Information (OWI) was created during World War II for the specific purpose of relaying news and distributing propaganda to the public, both foreign and domestic. While the National Archives' online finding aid for the OWI materials states that its function was to "promote, in the United States and abroad, understanding of the status and progress of the war effort and of war policies, activities, and aims of the U.S. government," there can be no question: a large portion of the materials distributed by the OWI was propaganda.
Many of these materials still exist, with a selection being available for viewing on Ohio Memory. Some of the posters will be familiar to our visitors, such as the iconic Uncle Sam who proclaimed "I want YOU" to U.S. residents, resulting in over sixteen million enlisted troops over the course of the war. Others are less familiar, such as the handful of posters created specifically for troops, advising them to "hug the ground and live longer" and practice other safety measures. Still others targeted Americans on the home front and encouraged them to grow victory gardens or can their produce or practice discretion where letters from soldiers were concerned.
Another piece of war propaganda disseminated by the OWI was the magazine, Victory. Each issue was printed in multiple languages for widespread distribution outside the U.S. In fact, Victory magazine was specifically produced for international readers; it was not made available to Americans. Victory issues featured articles that highlighted unique aspects of life in the United States, often focusing on fashion, geographic regions, and culture. Issues also generally included articles on military leaders, such as Generals Eisenhower and MacArthur, or pieces on American military prowess. Often, articles on American immigrants or on Americans of varied ethnicities were included to demonstrate widespread love of the American way of life. They were meant to shine a bright light on all that was wonderful about America and garner support for our military efforts during the war.
We are sure that your time will be well-spent as you peruse these wonderful items. Members of the generation actively affected by World War II are dwindling, but these pieces of their experience remain. Make them part of your experience, too!
---
Thank you to Shannon Kupfer, Digital/Tangible Media Cataloger at theState Library of Ohio, for this week's post!