Columbus Bicentennial: City of the Future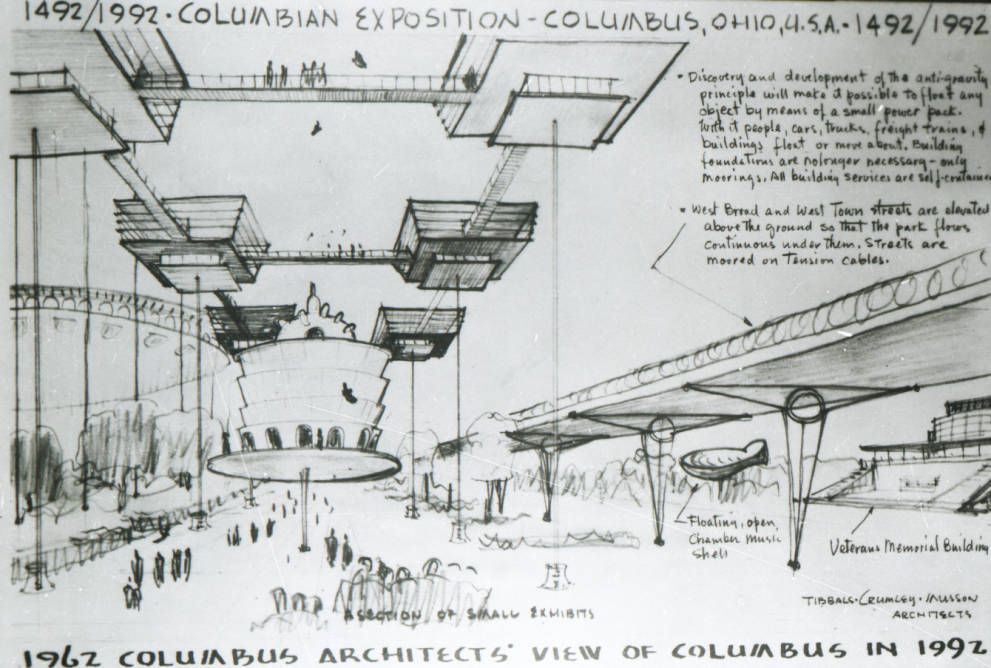 Fifty years ago–during Columbus's sesquicentennial–the October 14th issue of Columbus Dispatch Magazine included an interesting feature looking at the "Columbus of the future." Because the anniversary of that article is this weekend, and 2012 is now the bicentennial of our city, we'd like to show off a few of the interesting images from the article that we have available on Ohio Memory!
The article, entitled "Columbus looks ahead," featured experts discussing the changes the capital city could expect over the next half century. The illustrations of the city in 1992 included visions of the city 500 years after its namesake landed in the Americas, while other predictions revolved around how Columbus would be different by the year 2000. Let's take a look at some of the ideas that have come to pass, and those we're still waiting on!
Correct predictions:
New techniques for human organ transplantation
"Pre-cooked, irradiated and frozen meals" changing cooking practices
Bills paid by "magnetically inscribed cards"
Home television with "personal commercial-less programs"
Underground parking areas
Pedestrian parks in the downtown area
Still waiting:
"Mind-reading will be possible with electronic gadgets"
Cargo and passenger rocket ships
Water considered as valuable as gold
Floating transportation, roads and buildings thanks to discovery of an "anti-gravity principle"
Clothes cleaned in the closet by sound waves
A Columbus population of 1.5 million (we're about half of that right now)
Take a closer look at the predicted views of the city on Ohio Memory, or visit the Research Room at the Ohio History Center to view the original article on microfilm! The Dispatch also published an article early this year on how the 1962 vision of the future stacks up today, and what the predictions tell us about the values of the time in which they were made. As we look forward, perhaps to the year 2062, a line from the original article seems fitting: "Anything Columbus has done will be overshadowed spectacularly by what is to come."
---
Thanks to Lily Birkhimer, Digital Projects Coordinator at the Ohio History Connection, for this week's post!