All-American Soap Box Derby!
A long-time American tradition–the soap box derby–will be celebrated once more next weekend in Akron, Ohio, with the 76th Annual All-American Soap Box Derby! The world championships for this national youth program are held each year in July at Akron's Derby Downs, as they have been since 1936.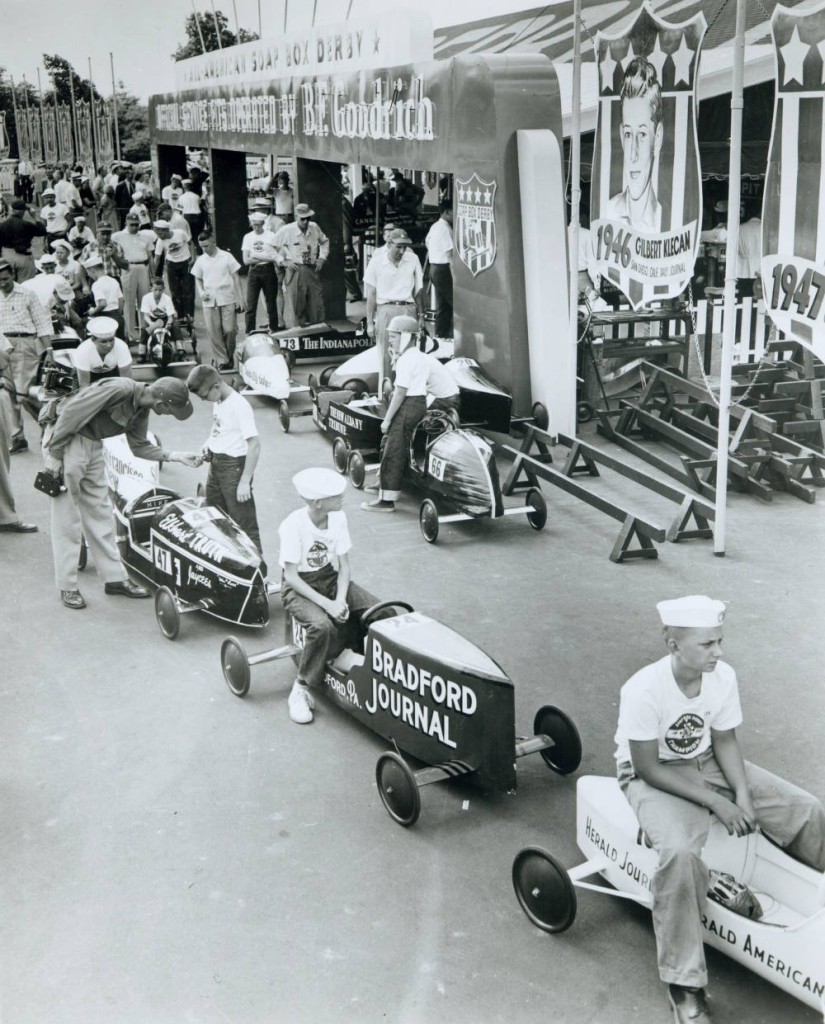 Myron Scott, a Dayton Daily News photographer, established the All-American Soap Box Derby in Dayton in 1933, after witnessing a group of boys racing homemade cars pieced together out of used crates and various other scrap parts. The first race was such a success that another was planned for the following year, with support of newspapers across the country.
Akron Beacon Journal sports editor Jim Schlemmer was instrumental in garnering support from Akron's rubber companies for the race, and shortly after the 1934 finals, a delegation from Akron met with Chevrolet (then-sponsor of the Derby) to explore the possibility of making the Derby a national event, and moving it to Akron. They were successful, and in 1935 the AASBD was held in Akron on Tallmadge Hill. The following year the Derby was held at Derby Downs, a Works Progress Administration project built adjacent to the Akron Municipal Airport. Each summer since then, except for during World War II, the Derby has attracted youth from all over the world to compete in the "Gravity Grand Prix."
A Popular Mechanics article from 1935 describes some of the rules and regulations for derby racer construction as follows:
"In constructing their racing cars according to rules formulated by a technical committee, the boys' ingenuity and ability are taxed to devise ways to make the cars run fast down hill without being pulled or pushed. Of course, the "soap box" vehicles have no engines. Specification limits are fixed so that no car will be longer than eighty inches, wider than forty-two inches and higher than thirty-six inches, exclusive of the steering wheel…So skillfully are some of the cars constructed, automotive engineers have made plans to "scout" the 1935 finals for the purpose of picking up ideas that might be applied to the automobile."
This article specifically mentions boys, but starting in 1971, girls were racing as well. The first All-American race won by a girl came in 1975, when Karen Stead was the first racer across the finish line.
80 years after the very first race, this timeless event continues to promote its original goals: "to teach youngsters some of the basic skills of workmanship, the spirit of competition and the perseverance to continue a project once it has begun." If you can't make it to Derby Downs in person, we hope you'll explore some soap box derby history on Ohio Memory–see you at the finish line!
---
Thanks to Lily Birkhimer, Digital Projects Coordinator at the Ohio History Connection, for this week's post!