Dig Into the Siebert Collection!
Ohio Memory is happy to announce that, like in years past, access to the Wilbur H. Siebert Collection is open to the public for the month of February in honor of Black History Month! This valuable research collection normally requires an annual subscription either at the individual or institutional level, but we hope you'll take this opportunity to explore the many fascinating items that make up this important collection.
One of the great things about having this content available online is that all of the documents are full-text searchable. This means that if a name or place appears in an individual's account of the Underground Railroad in their local community, a search for that term will take you directly to that document in your search results. Ever wonder if a prominent individual from your area was involved in assisting slaves on their journey north? Trying to find a record of your ancestor who was a fugitive slave? Looking for confirmation that a home in your neighborhood was indeed a station on the Underground Railroad? Try searching the Siebert Collection and see what you can find!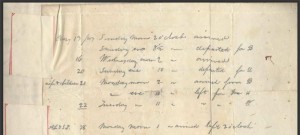 In addition to individual accounts of UGRR activity, the collection includes photographs, maps, newspaper articles, biographies and memoirs, trial records, census reports and more! Much of the reference material in the collection ended up being used in Siebert's publications about the
Underground Railroad, including his book The Underground Railroad from Slavery to Freedom (1899) and a number of state histories about the movement. Additional items of interest may include "A Centennial Ode to Ohio" given by Colonel Coates Kinney, an Ohio State Archaeological and Historical Quarterly article about Ohio antislavery conventions, a ledger documenting the movements of fugitive slaves, and even documentation disproving erroneous rumors of Underground Railroad activities.
Subscriptions to the Siebert Collection provide year-round support to both the digital and physical collections, as well as help to improve access to the extensive collections, archives and library services of the Ohio History Connection. Organizations or individuals interested in access to the collection beyond the free access period should contact project staff at images@ohiohistory.org. Discount pricing is available for Ohio History Connection members!
---
Thanks to Lily Birkhimer, Digital Projects Coordinator at the Ohio History Connection, for this week's post!